L-Menthol received USDA Certified BioPreferred Label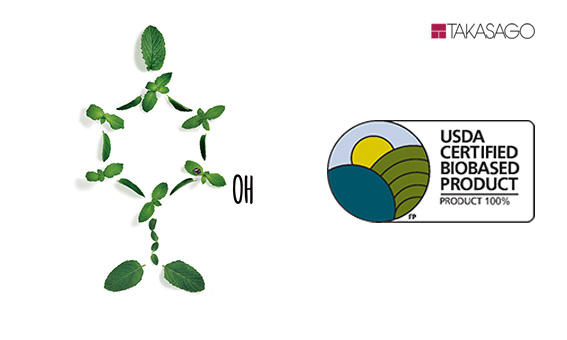 Takasago International Corporation announces that Takasago's L-Menthol is certified USDA Biobased product as 100%.
USDA certified BioPreferred label offers recognition and confidence to Takasago's efforts and commitment to provide products that will contribute to a more sustainable society.
Takasago's journey towards a 100% Biobased L-Menthol began in 1954 was ground-breaking. It also opened up the door to discover many other Biobased aroma ingredients on our portfolio. This USDA Biobased certification is a timely reminder to us that the journey towards Biobased molecule is not by chance or serendipity but through hard-work, ingenuity and resourcefulness that goes beyond Kaizen.
Truly Takasago bringing together Nature and Chemistry for the benefit of society.
Third-party verification for a product's biobased content is administered through the USDA BioPreferred Program. One of the goals of the BioPreferred Program is to increase the development, purchase, and use of biobased products.
The USDA Certified Biobased Product label displays a product's biobased content, which is the portion of a product that comes from a renewable source, such as plant, animal, marine, or forestry feedstocks. Utilizing renewable, biobased materials displaces the need for non-renewable petroleum-based chemicals. Biobased products, through petroleum displacement, have played an increasingly important role in reducing greenhouse gas emissions that exacerbate global climate change.
Our LinkedIn page
https://www.linkedin.com/posts/takasago_menthol-biobased-renewable-activity-6658520158967042048-EZzF
To learn more about the USDA Certified Biobased Product label please visit
https://www.biopreferred.gov/
and follow on Twitter
https://twitter.com/BioPreferred